How to get here?
By train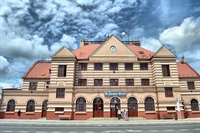 Český Brod station is located on line 011 and is part of the Prague-Kolín route. Passenger trains run here at regular intervals and stop here (from the direction of Prague) up to 4 times per hour during peak hours. On weekends and holidays, the interval is 1x per hour.
Express trains also stop in Český Brod several times a day. From the station, it is approximately a 5-minute walk to the city center.

By car 
If you use the highway for your travels, you can get to Český Brod by the D11 highway, where you take exit 18 in the direction of Bříství and Český Brod. Český Brod is also located very close to the I/12 road, which connects Prague and Kolín.

By bus
Unfortunately, we do not have a long-distance bus stop in Český Brod. However, if you are traveling to us from the direction of Mukařov, Čelákovice, Kouřim or Lysá nad Labem, you can use regular buses.
If you are organizing a trip for a larger number of participants and plan to arrive by bus, please contact us in advance.

Parking
Parking spaces for cars are available on both squares (Husovo square, Arnošta z Pardubice square). Here, however, only the first hour is free on weekdays and must be documented with a parking meter or collected parking ticket. If you do not own a parking meter, you can purchase one at the Information Center. From 18:00 on weekdays and on Saturday afternoon and throughout Sunday, parking is free throughout the city. Free parking near the square is also located in Palackého Street.

Taxi
In Český Brod, you can use the taxi service of the town of Kostelec nad Černými Lesy. Contact: 602 346 796
Transport around the area
There are many other tourist destinations in the vicinity of Český Brod, which you should not miss when visiting this region. Most of them are accessible by car, public transport or by bicycle. You can find more useful information on individual destinations in the Attractions in the area section or by asking the helpful staff of the Information Center.